By Laine Welch
Dogs are "Askin' for AlaSkins" made from fish skins with a side of CBDs.
The treats, made from halibut, cod and salmon skins are the creation of Sara Erickson of Soldotna who began making and selling them in 2017.
Since then, AlaSkins has won a 2021 Best New Business award by the Anchorage Daily News. The small company also took home a second place at the 2022 Alaska Symphony of Seafood competition.
Erickson buys freeze-dried fish skins from local processors. At her small plant in North Kenai, the skins are made into rolls or laid flat on dehydrating racks and packaged. Her crew of four also scrapes off any extra meat that goes into a canned product for dogs and cats.
No other ingredients are added.
"AlaSkins are full of protein, Omega 3s, Vitamin A, Potassium, Vitamin D, and B12. They don't need any other ingredients," Erickson quickly points out.
One ingredient option is skins laced with CBD oil to reduce pain or stress.
AlaSkins partners with Homer-based Frontier CBDs to make treats from hemp isolate combined with wild salmon oil.
"We didn't mess around with small amounts of CBD. We loaded each treat with 15mg," Erickson said.
Erickson is currently building a larger facility to accommodate growing demand. She envisions it might be a licensed processing facility that can accommodate other entrepreneurs.
The state does not do food safety audits on pet food makers, she said, which has blocked AlaSkins from breaking into big markets like CostCo. Erickson credited Senator Peter Micciche (R-Soldotna) for helping to find a solution to that deal breaker.
"Alaska really needs to start focusing on different revenue streams," she said. "Instead of just selling our fish, sell the wastes. I want Alaska to start marketing this whole line that says Alaska seafood isn't just for people, it's also for pets."
AlaSkins can be found in nearly 20 outlets from Southeast to Fairbanks and at Erickson's retail store at 44109 Sterling Highway in Soldotna.
For a touch of 'surf and turf,' also take home a moose antler dog chew.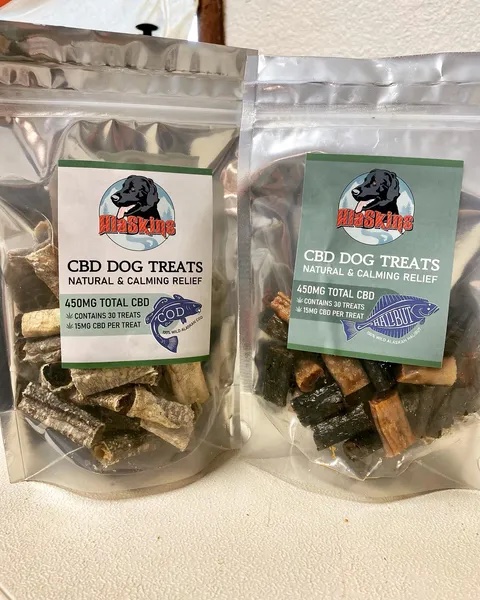 Photo credit: AlaSkins
Find more at www.alaskafishradio.com